Welcome
To Ohana Havanese

Ohana means family in Hawaiian and that is what our havanese are to us, family.
We are a very small hobby breeder/exhibitor of Champion AKC Havanese dogs. We are located in sunny southern California.
Please feel free to browse our pages and learn about this charming breed, the Havanese, also known as the Havana Silk Dog.
When our kids became old enough to learn how to care for a dog, we started searching for a breed that would be excellent for children, affectionate, small, playful, intelligent, not shed and sturdy. Our search led to the Havanese and we could not be happier! Havanese are natural companion dogs, gentle and responsive. These cheerful dogs are easy to obedience train, very sociable and get along with everyone including our resident Ragdoll cats,Gary, Larry and Joanz.
We purchased our first Havanese in December, 2001. That was Trixie and since then, we are smitten!
We love this Havanese breed and we have made lots of new friends thru them. From time to time we will offer puppies that are raised happy, healthy, fun and most of all, a wonderful "family" Havanese.
We have puppies Available!
For more information on our Available Havanese Puppies and to see the parents please see our Havanese Puppies page.


Home | Our Havanese Dogs | Our Puppies | Past Puppies | Information | Favorite Links | Contact Us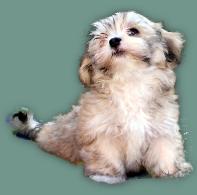 Copyright © OhanaHavanese.com
All rights reserved
Designed by Gerlinda.com